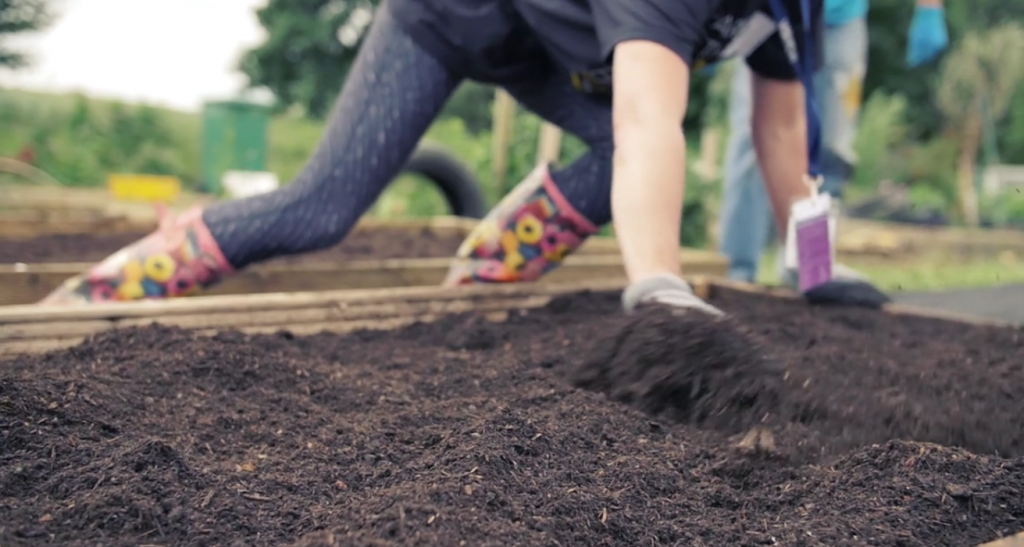 If you haven't heard already, something pretty exciting is kicking off in Plymouth & Exeter from the 5th September. These two cities are the next ones ready to take part in the nationwide event called Spark Something Good that has already unfolded in other parts of the UK including London, Edinburgh, Dublin, Bristol and Newcastle. We've been working with M&S employees to get stuck in to a whole host of amazing volunteer events from city to city. Are you looking for just the right opportunity to get stuck in to some fun volunteer work? We might have just the thing for you!
Here's just a handful of the 24 incredible projects involved:
1. Decorate a vibrant family hub at Barnardo's Children's Centre
When: Tuesday 6th Sept, Plymouth
Barnardo's Children's Centres are amazing places that support, advise and inform families of under 5's to help make parenting that little bit easier. They're looking for volunteers to help create a welcoming vibrant community hub to support families in their first precious years. They'll use the space as an area for lots of exciting events - parent and child sessions, antenatal classes, a pop up community café and shop. Volunteers will spend a rewarding day clearing and prepping the space ready for decorating, painting the walls and laying flooring. Last but not least, you'll make the hub feel really welcoming by putting up curtains and accessorising this brilliant new community hub.
2. Help Harbour create a roof garden at their recovery centre
When: Wed 7th Sept, Plymouth
Here's your chance to build a beautiful rooftop garden for people in recovery from substance misuse and their families, loved-ones and support staff. The Harbour Centre support and treat people experiencing harm caused by substance misuse, and the rooftop space will be somewhere visitors will be free to sit, relax and think whilst taking in an incredible birds-eye view of Plymouth. So if you'd like to bring some fresh air, space and sunshine to the people who come to Harbour, and build an incredible roof garden in just one day, why not sign up to take part.
3. Build a Mud Kitchen and Bug Hotel with Action for Children
When: Saturday 10th Sept, Exeter
Here's a project for gardening lovers – especially if you're interested in helping to create opportunities for young children. The vision for this one is to build an exciting sensory garden for the babies at Beacon nursery and improve the outdoor space for the children at Cedars Pre-School. This is a charity-run nursery and pre-school based in one of Exeter's most deprived areas that care for some of the city's most vulnerable children. With your help, they'll build a Mud Kitchen at Beacon Nursery and a Bug Hotel at Cedars Pre-School. You'll even be putting together some balance beams and digging some growing areas where they can teach the children how to nurture food plants.
4. Give patients and their families time to relax with FORCE Cancer Charity
When: Sunday 11th Sept, Exmouth
Sign up to this gardening project to help enhance the garden at this fabulous cancer support centre. FORCE offer professional support and information to anyone affected by cancer. Their visitors come here to talk, relax, and simply be together in a safe and peaceful environment. With your help they now want to create a beautiful outdoor space where patients and families can come to relax. If you'd like to play a part in this story, sign up to volunteer for a day of fresh air and gardening. The work will be outdoors - weeding, cutting, cleaning and painting in the gardens. (Over 18s only for this one please)
5. Host a community tea party with the Royal Voluntary Service
When: Monday 5th Sept, Exeter
Do you like to party? This one's for you then! Royal Voluntary Service is one of the biggest volunteer organisations in the country with over 35,000 volunteers helping older people keep active, independent and contributing to society. And it's this lovely community that are throwing a tea party to entertain the elderly folk they work with in Exeter and Plymouth, but also celebrate wonderful volunteers! What's not to love about this project? Help put on a vintage tea party at Ide Village Hall, put on a spread, make new friends and pop those party poppers!
---------
And remember, this is just a handful of projects taking place. There are 24 projects happening across Plymouth and Exeter in just 7 days starting on Monday 5th Sept, so what are you waiting for? Head over to neighbourly.com/mandsvolunteer, sign up and invite your friends! Let's Spark Something Good :)
About Neighbourly
Neighbourly connects charity and community projects with people and companies that can lend a hand. Get support by creating and sharing a project or give support by following, sharing or giving a day to volunteer.