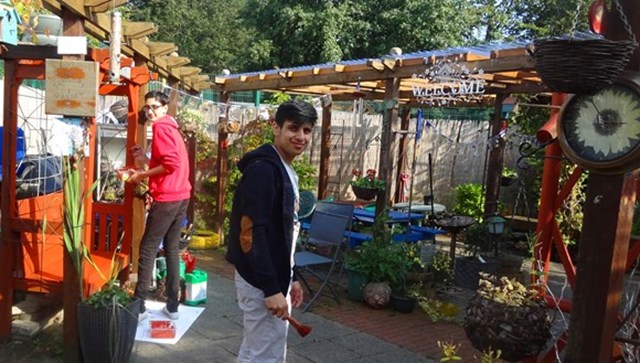 Big up Manchester – a place of helpful neighbours, kind deeds and loyal friendships. All over the city, residents are helping to make lives better daily; from animal-lovers in Sale who spend their free time caring for abandoned pets to a dedicated partnership in Old Trafford, working hard to create a community centre from scratch! This month, on the weekend of 19th-21st May its your chance to spend a day getting stuck into fun, rewarding activities alongside them.
During the 19th-21st May weekend, people across Manchester are gathering together to take part in three community events in the city, one of four chosen to take part in The Body Shop's Enriching Communities weekend along with Birmingham, Glasgow and Leeds. The Body Shop is inspiring their employees, customers and neighbours to grab their wellies and paint-brushes for causes they believe in. Read on to hear more about three of Manchester's best loved community projects and how you can join the action…
Society for Abandoned Animals
The Peggy Henderson Animal Sanctuary, based at the beautiful Mosely Acre Farm in Sale, is run by an inspiring local animal charity called the Society for Abandoned Animals.
The force behind this inspiring sanctuary is a team of passionate animal lovers working in their evenings and weekends to care for and re-home unwanted cats and rabbits. Many of the animals at the sanctuary have not had the best start in life and the team at Mosely Acre Farm looks after them until they are matched with supportive new families.
The sanctuary desperately needs to refurbish their enclosures as there's a growing list of animals waiting to come in and some of the pens are falling into disuse. They urgently want to welcome more unwanted animals to the farm where they will be safe and looked after.
If you're a fellow animal lover, sign up to spend a day painting and doing DIY at one of Manchester's most inspiring animal sanctuaries. Oh, and get ready for plenty of animal cuddling throughout the day!
Globe Community Centre
Globe Community Centre in Old Trafford is a partnership of organisations set up so they can achieve more by working together. They run enjoyable activities so local families and individuals can learn to help themselves relax in times of stress, have fun family experiences and importantly some 'me time'.
Over the past 18 months, the community partnership has been rapidly transforming an empty, unused building into a wonderful community hub. Globe has received lots of support from local businesses, including Marks and Spencer who donate surplus food to the centre, Lidl who have pledged to send them a fridge and Heineken who has helped with financial donations.
Marva, the project lead, sums up why Globe means so much to community members: "We believe Globe means somewhere they can belong to". In a world where strong, caring communities are becoming ever more important, the fact that local people have somewhere they feel a sense of belonging makes the months of hard work worthwhile.
The centre is hosting a public viewing of the achievements that have taken place at the centre over the last 18 months. During the day, you can help them to develop the new Globe allotment where young people will be able to grow their own produce. Creative types among you can also help paint an inspiring phoenix mural to represent their motto, 'Rise Again'. With your help, they'll create a lasting artwork to remind Manchester's communities that we can always achieve what we set our hearts on.
Whitemoss Community Centre
Whitemoss Youth Club has become the lively centre it is today due to decades of community-minded Mancunians taking steps for young residents. In 1967, a group of passionate volunteers raised funds to build new premises for the club. Today, everybody knows the centre as a hub of the community, offering opportunities for children, young people and volunteers to play, work and make new friends.
John Biggs, who manages the centre, has been celebrated for his contribution to Manchester's communities. He's been crowned Mancunian of the Year, carried the Commonwealth Games baton in Manchester, and received the British Empire Medal! The centre has incredible local support and John explains that it's a real family effort - "My son has volunteered at the centre for 22 years and my wife was one of the first girls who joined the centre when it changed from a Boys Club to a Youth club, allowing both Boys and Girls to use the facilities."
The team at Whitemoss is very proud of their efforts to improve the local environment. They've developed a beautiful sensory garden and would love you to sign up for a day of gardening to improve it for the young people and wider community who visit the centre.
Projects like these and the inspiring teams behind them are what makes Manchester a fantastic place to live. Take a look at all the events taking place during the 19th-21st May weekend. Whether you're passionate about creating opportunities for young people, enjoy creating works of art or simply love cuddling animals, there's a way for you to be involved.
Don't worry if you can't sign up yourself; you can help by sharing the news across social media to let your friends and family know they can sign up to join one of these wonderful events: #InOurHands.
About Neighbourly
Neighbourly matches charity and community projects with people and companies that can donate time, money or surplus food. Get support by creating and sharing a project or give support by following, donating or giving a day to volunteer.