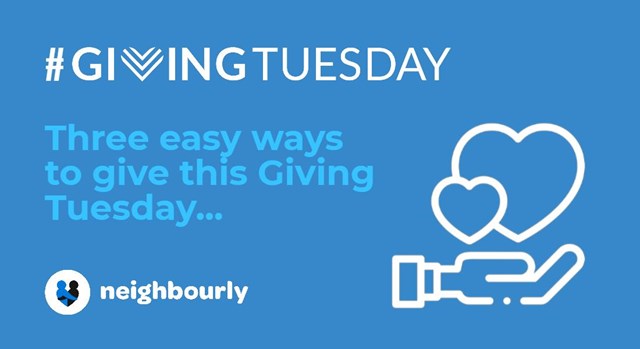 With just weeks to go until the Christmas holidays begin, and the infamous Black Friday just passed, millions of us have been trying to get the best deals on gifts for our family, friends and loved ones.
As well as giving to those we love, Christmas is a season of kindness and goodwill so, for many, giving to those in need is just as important a part of the festive season.
Today we're celebrating Giving Tuesday, the global day of giving where everyone, everywhere is encouraged to do something to support the good causes that mean the most to them.
2020 has been an incredibly tough year for a lot of people, and for some it's the time to give back, so for those looking to do something for Giving Tuesday (and beyond), we've put together a list of 3 easy ways to give this Christmas.
Support a campaign
There are so many brilliant campaigns running through Neighbourly this year, making it easier than ever to support those in need in your local community.
Donate to the Lidl 'Tackling Hunger' campaign.
Head to any Lidl store and you'll spot 'Teaming up to tackle hunger leaflets' at the entrance or by the tills. Scan a leaflet through the till with your shopping to donate food items to your local food bank - from as little as 35p for a tin of tomatoes - and Lidl will match your donation.
You can also text 'Food' to 70007 to donate £3 or donate online via the Lidl Teaming up to tackle hunger page.
Buy a book, give a book with Penguin.
Until the 21st December, you can buy any book from the 'It begins with a book' page on Bookshop.org and Penguin will donate one to a good cause through Neighbourly to go to someone who needs it most.
Recycle your phone with GiffGaff.
If you've got an old phone knocking about or are about to upgrade, consider recycling it through GiffGaff. If it's worth anything, you might earn yourself some cash - of which you can opt to donate a percentage to the Neighbourly Foundation.
Set the Neighbourly Foundation as your charity of choice with M&S Sparks.
Earlier this year we were excited to partner with M&S Sparks meaning that anyone with an M&S Sparks card can set the Neighbourly Foundation as their charity of choice. Then, for every purchase you make at M&S, a donation will be made.
Feed a family with Southern Co-op.
For those living in the South of England and wanting to keep your giving local, the Southern Co-op Feed a Family campaign is supporting local food banks with £200 micro-grants which can be used to purchase things like additional fridges and freezers to store food for emergency food parcels.
You can donate to the fund at the till of your local Southern Co-op or donate online by heading to the Feed a Family campaign page.
Buy your turkey from Aldi.
If you're a fan of a roasted turkey on Christmas day, consider buying one from Aldi this year. For every fresh turkey purchased on the lead up to the big day, Aldi will donate £1 to the Neighbourly Foundation.
Donate to support good causes in your local area
After seeing the immense need from small local charities during the first wave of the Covid-19 pandemic and the impact of the Neighbourly Community Fund grants, we set up a dedicated charity - the Neighbourly Foundation - to provide ongoing emergency relief to the good causes that make such a huge difference to our communities.
As well as donating via the campaigns listed above, you can still donate directly to the Foundation via the Neighbourly Community Fund.
You can also donate directly to the good causes that are most local to you. To find charities and community groups that are currently fundraising, use the Neighbourly Fundraising search function. Just pop in your postcode or town into the 'Location' box and hit enter. If you find one you'd like to donate to, don't forget to tick the Gift Aid box.
Give to your local food bank
Sadly for many food banks across the UK, Christmas can be one of their busiest times of year - with increasing numbers of families having to choose between paying the bills and buying food.
The situation this year is only expected to get worse, with many more thousands of families affected by the economic impacts of the pandemic. With that, it's more important than ever to support your local food bank so they can keep struggling families well fed throughout the winter season.
Luckily thousands of stores across the country - including Lidl, Aldi and Southern Co-op - now offer an easy means to donate essential long-life food items and festive treats via donation points - often at the store's exits.
Keep an eye out for the food donation baskets next time you pop out for your supermarket shop this winter, and donate if you can.
To anyone that has already made a donation, supported one of our campaigns or plans to support local good causes in any way this Giving Tuesday, we'd like to say a huge thank you. Local good causes are at the heart of so many communities and every bit of support we can give them will enable them to help those who need it most this Christmas.